From dream outdoor living spaces to therapeutic retreats, you'll feel like you're on vacation at these residential swimming pools.
All created, designed and built by liquidscapes.
Swim into the Sunset
Enjoy an evening swim with this swimming pool design as you watch the sunset This free form shaped pool and elevated spa can act as a great space for adults or even a smaller pool for the kids.
A Dream Outdoor Living Space
It's the kind of pool you see in the movies. The beach entry, the bar seated inside the pool, the outdoor kitchen and fireplace and lighting to showcase the magic of it all. You'll feel like a star in your own home with this swimming pool design and landscape.
A Place to Enjoy After You Dock the Boat
Luxury doesn't haven't to mean big. Sometimes it's the little things done well that make for the best experiences. After taking a ride in your boat with friends, you can enjoy a nice dip in this swimming pool while you drink a glass of wine with your spouse and feel the light breeze and sun on your face at the end of your day.
A Family Party At Dusk
There's nothing better than a family BBQ on a warm summer night. The grill is going and the kids are playing in the pool. You and your family can enjoy a light swim in this pool design that at its depth gets to only 5 feet in the middle so everyone can stand and enjoy a good time and summer night.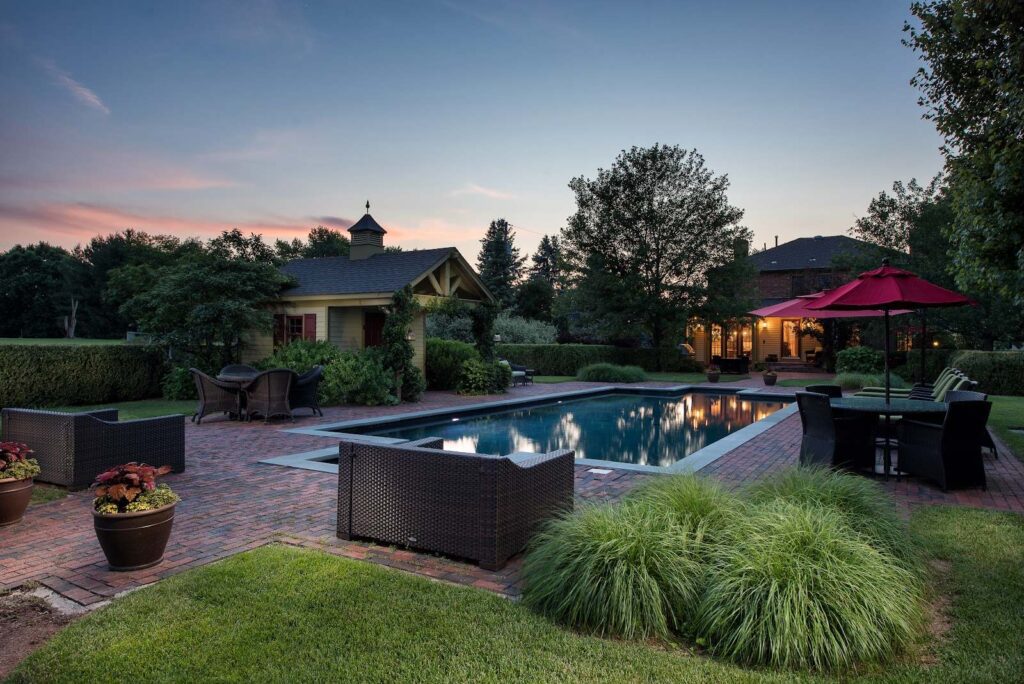 Your Private Pool Right on the Water
Sometimes you want that ocean breeze but just a little more privacy. In this pool design you can enjoy the sound and feel of your own waterfall, with the view of the ocean and a landscape design that lets you feel like you're at your own private resort.
Therapeutic Pool and Spa Wellness Retreat
Being in nature reduces stress and increases pleasant, calming feelings. This swimming pool and spa is designed to improve your mental wellbeing. From the grey and blue coloring surrounded by the greenery and the simple clean architectural lines, who needs to go to the spa or on vacation when this is in your backyard?
Modern Artist
This swimming pool and spa is all about creating geometric shapes and lines for any lover of modern art. This pool doesn't just feel great to swim in, it looks great too. Host a party for your top guests where hors d'oeuvres and cool drinks are served and everyone is wearing the latest summer style.